How instructors are using the book around the world
"To the Final Peace"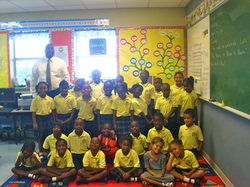 Joy Frater Students - After presenting their project !
Lesson Plan
Prepared for Ms. Joy Frater!!!...Cayman Islands
Age: k-6
-- Comment from one of the authors (Dr. Bowens McCarthy) :
I am absolutely astounded with happiness at how you have chosen to use our book. I think it is a wonderful assignment for several reasons, but particularly because hopefully the children will focus on the most important aspect of the book: how to avoid war. And this filters down or moves from individual relationships to the relations between nations. It's commonly called practicing the Ten Commandments.
---
To the Final peace - parental involvement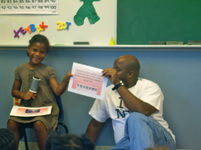 Mikayla presenting her book critique. Her dad was present!
This was a great experience for the kids!
---
These websites do not necessarily represent the opinions of the owners of the Final War:.
Stop War – Cambridge Coalition
http://stopwarcambridge.blogspot.com/
Cambridge Stop the War is a broad-based coalition of peace activists, Trade Unions, faith groups, political parties and individuals in and around Cambridge. We are an affiliate of the national Stop the War Coalition.
Finances Blog
http://financialpress.com/editors/
This blog is written for financial researches. It is well documented and the topics are updated almost daily
Jerusalem Center
http://jerusalemcenter.wordpress.com/
This is a multidisciplinary, independent non-profit think tank for Israel policy research and education, bringing together the best minds in the political, strategic, diplomatic and legal arenas, in Israel and abroad.
Stop Poverty
http://povertyblog.wordpress.com/
Blog about how to end the poverty
This blog is sponsored by the University of Manchester. I find their information accurate and valuable to read. Bloggers are researchers of the Poverty Institute.